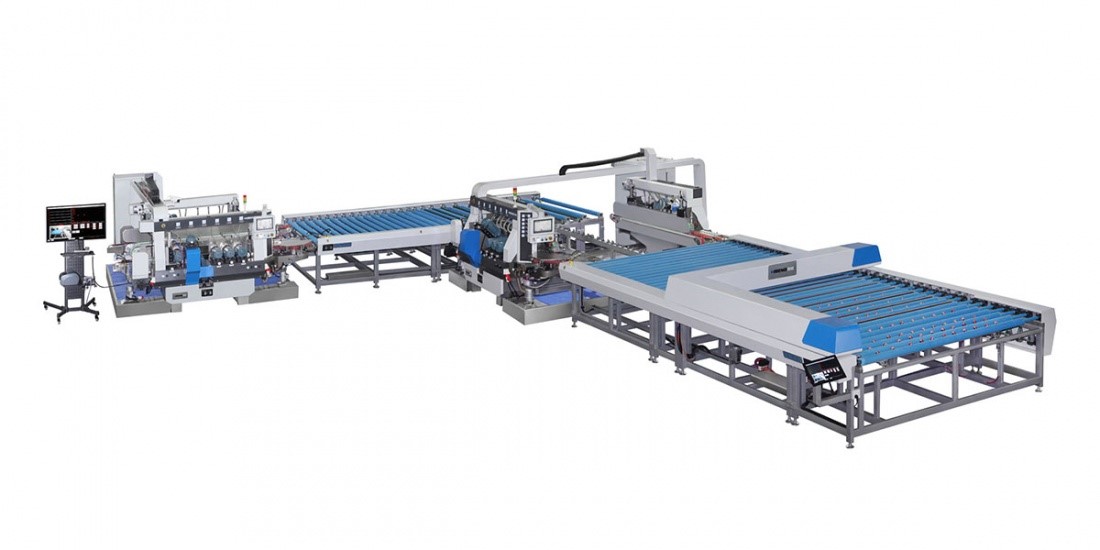 HISENG SZM Series is specially used for rough grinding of rectangular glass (bottom edge, chamfer). It is suitable for processing hollow glass of buildings, doors and windows, as well as white glass and LOW-E glass with complex and single specifications.
Main features:
Bus control system (ethernet) is adopted in the whole line, which has fast speed, stable data transmission, high reliability and expansibility.
The operation is simpler. The production line has a key start function. The membrane removal wheel can also be shut down at any time on the console. When the membrane removal motor is closed, the membrane removal motor stops. At the same time, the membrane removal wheel will rise automatically to ensure that it will not touch the glass. 3. The glass surface is clamped by the epithelial band, and the upper band is a special sponge band. When grinding, water will not flow out of the glass surface, which effectively avoids the scratches and indentations on the LOW-E surface of the glass.
The diaphragm removal wheel is driven by servo motor. The diaphragm removal wheel can be adjusted automatically according to the thickness of the glass. After the wear of the diaphragm removal wheel, the grinding compensation can be set directly on the console without manual readjustment.5. There is a pause button on the whole line. If the whole line is in normal operation, it will not affect the operation status of the whole line or disturb the order of the glass, and the glass data will not be lost after the pause is pressed and restarted. 6. Servo motor is used to drive the rack and pinion drive in glass width adjustment. Compared with the traditional bilateral machine, the speed of width adjustment is faster (22m/min) and the positioning is more accurate.
The opening and closing guideway is equipped with clamp. When the opening and closing high-speed operation is in place, the clamp will automatically lock to ensure the dimensional accuracy of the processing and the stability of the operation of the equipment. 8. Glass conveying is driven by double servo motor, which has higher synchronization. 9. High processing speed with a maximum design speed of 15m/min. 10. The equipment shows the daily output of glass processing (single-sided meters) to accumulate, so that users can see the processing output more intuitively. 11. Frequency conversion energy-saving, if the idle operation of the equipment exceeds the set time, the grinding wheel will automatically decelerate, the equipment will start dormancy function, the system detects that the equipment will automatically speed up after glass. 12. Stainless steel is used for sheet metal and water tank in contact with water.
JCT-2525 Glass Automatic Testing Platform
Processing glass thickness
3-25mm
Minimum Size of Processed Glass
350X350mm
Maximum Size of Processed Glass
2500X2500mm
Transport speed of glass
0.5m—40m/min
Pneumatic working pressure
0.6Mpa-0.8Mpa
Total power
5.3KW
weight
2600Kg
size
5800X3100X1300mm
Working height
900±20mm
SZM-1025 Glass High Speed Bilateral Edge Grinder
Processing glass thickness
3-12mm
Processing Dimension Range
350mm-2500mm
Transport speed of glass
1m-15m/min
Parallel error
≤0.2mm/m
Diagonal error
≤0.5mm/m
Chamfer width error
≤0.2mm/m
Chamfer width dimension
1-3mm
Maximum bottom grinding
5mm
Pneumatic working pressure
0.6Mpa-0.8Mpa
Total power
36.3KW
weight
4200Kg
size
3400X5000X2000mm
Working height
900±30mm
LST-2525 glass L-type turntable
Processing glass thickness
3-25mm
Minimum Size of Processed Glass
400X400mm
Maximum Size of Processed Glass
2500X2500mm
Transport speed of glass
0.5m—50m/min
Pneumatic working pressure
0.6Mpa-0.8Mpa
Total power
4.5KW
weight
2100Kg
size
5800X3100X1300mm
Working height
900 ±20mm