The Genius LM-A range of cutting lines consists of machines for cutting laminated glass that are ergonomic and equipped with intuitive controls, which bear witness to Intermac's great know-how in the sector and can guarantee high levels of productivity. The Genius LM-AC lines are available with full cycle automation facility from loading to unloading of the finished product and are aimed at companies with needs above 400 m2 per work shift. They represent particularly innovating solutions, covered by Intermac patent, which allow insertion of a laminated line that can withstand comparison with other models on the market but in much reduced space and without renouncing output levels, given the very short working cycle times. Glass sheet handling is completely automated and the operator only needs to unload the finished products.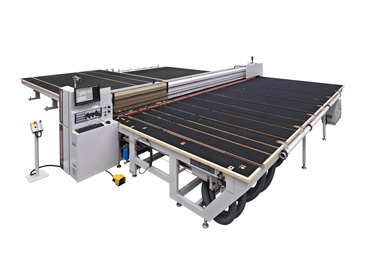 Cutting
These machines are equipped with photocell to detect beginning and end of the sheet for the execution of free and inclined cuts. The cutting is carried through extremely sensible cutting heads placed on a unit equipped with Brushless engines.
Lower breaking
The lower breaking is executed with a pneumatic cutting wheel which is mounted directly on the upper cutting unit.
Upper breaking thick glasses
The breaking of the upper glass sheet has 2 programmable positions and is automatically carried by the breaking bar. The coloured line on the surface of the bar functions as reference for inclined cutting operations.
Upper Breaking
Drastic time cycle reduction thanks to the innovative intermac patent that allows the execution of the upper breaking during the PVB film heating.
Heating and separation of the plastic film
A short wave lamp heats the plastic film without overheating the glass. The pulling is executed on the lower part of the glass, to avoid applying separation force on the coating film of low-e glasses. This also makes it possible to leave the work area completely free on the side of the machine operator.
Blade for pvb cutting
The blade placed on the upper cutting unit, is ideal for pvb cutting (> 0,76 mm) in order to guarantee maximum finishing quality.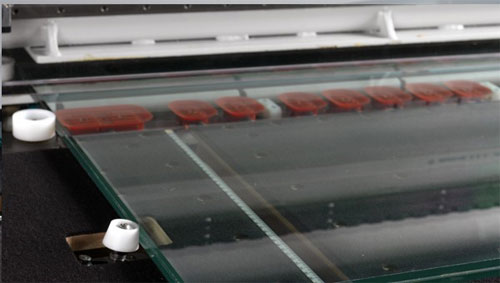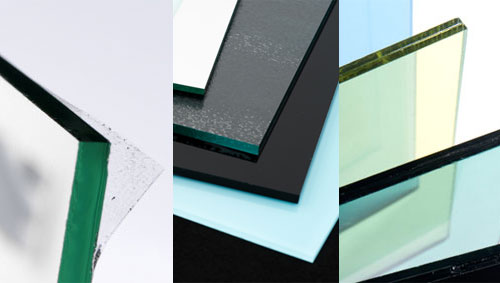 These cutting tables are equipped with IWNC numerical control based on commercial PC with Windows interface. The use of a PC with Windows operating system is extremely simple and intuitive for the operator and provides full connectivity with commercially available network systems and optical/magnetic supports. The PC is supplied with CD-ROM drive, and network card, 17" color monitor and Windows operating system. The PC modem and teleservice software enable remote diagnostics and software updates.