Genius 37-61 CT are the machines that redefine the standards of CNC cutting tables used for straight and shaped cutting of monolithic glass sheets. Available formats are for cutting of half and jumbo sheets. The constant attention paid by Intermac to the customers needs throughout the world, has resulted in the introduction of some revolutionary innovations: the machines are controlled by a standard commercially available PC through a Windows interface, guaranteeing full connectivity and greater simplicity of use by the operator. Genius 37-61 CT are also versatile and modular cutting tables that can be configured according to the customer's specific requirements in order to satisfy the needs of the individual craftsman and the medium/large company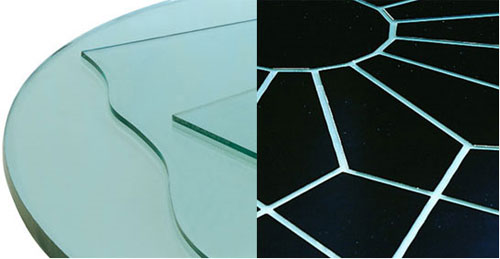 Ground worktable
The machine bed is made by a rigid frame onto which calibrated wooden panels are fitted in order to guarantee a high grade of flatness of the working area that is necessary to obtain the best results from the glass cutting or break-off operations.
Precision mechanics 
The sliding guides of the cutting bridge are housed directly in the machine base. The grooves are processed by a NC tooling machine, thereby guaranteeing reliability and precision. The use of guides composed of ground bars in tempered and chromium plated steel on both sides ensure reliability in time.
Operating head
Genius 37-61 CT are equipped with a hi-tech operating head fitted with an automatic cutting pressure control system. This mechanism controls the pressure of the cutting wheel from the very beginning to the end of the cut, automatically adjusting the pressure according to the geometry of the cutting path. The PC controlled axis speed and the high quality of all the electronic and mechanical components allow the optimisation of the cutting time, thus guaranteeing flexibility and continuity of operation.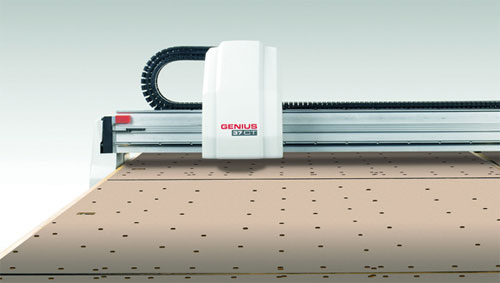 PC based numerical control IWNC (Intermac Windows Numerical Control)
The Genius 37-61 CT also incorporates something completely new in the field of cutting tables: the IWNC numerical control integrated in a commercial personal computer operating a Windows interface. The use of a PC with Windows operating system is extremely simple and intuitive for the operator and provides full connectivity with commercially available network systems and optical/magnetic supports. The PC is supplied complete with CD-ROM drive and network card, 17" colour monitor and Windows operating system. The PC modem and teleservice software enable remote diagnostics and software updating/modification through the use of a telephone line. It's possible to connect a webcam to the PC, to save and transmit in real time instant images of some details of the machine to the Service Department.