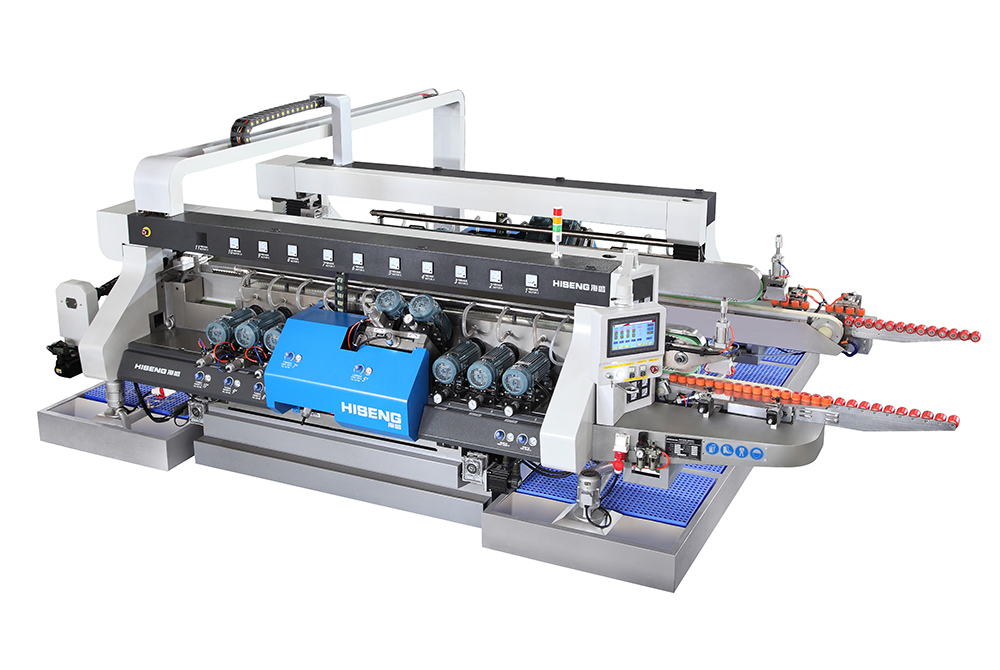 HISENG HSD is used to grind the parallel sides of flat glass with different specifications and thicknesses. The horizontal input, rough grinding, chamfering, fine grinding and polishing of glass are completed at one time. The overall design is reasonable and rigid. Especially suitable for processing thick plate glass.
The opening and closing of the machine adopts the high-precision transmission structure of double linear guideway and double ball screw, which can ensure parallel movement.
The upper chamfer of the machine is driven by a trawler, which is directly at 45 degrees. The chamfer trawler has little vibration. The computer controls the entrance and exit of the chamfer, which is convenient for operation.
Mechanical transmission adopts three-axle gear box with hexagonal transmission shaft (our company's design patent), which can prevent water, glass powder and dust, and is more stable when opening and closing, and will not jitter because of the deformation of transmission shaft.
Mechanical conveyor belts are made of special sponge PU material. When grinding glass, the surface is basically waterless. It also ensures that there is no possibility of glass slag scratching on the surface of glass and does not worry about the unclean cleaning of glass. In the past, because the surface of glass grinding is full of water, scratches, water flooding, and splashing glass powder everywhere, resulting in unclean cleaning and so on, and we have solved the existing problems, so that users can rest assured that they can use.
The mechanical intermediate bracket is an automatic alignment structure with synchronous wheel, synchronous belt and slider. This alignment can save the user's attention and avoid manual alignment before and after grinding the large plate. Automatic alignment is: for example, 2 meters wide glass, the middle bracket will automatically be positioned to 1 meter position with the movement of the moving seat, so as to ensure that the middle bracket has been aligned.
The pneumatic polishing trawler adopts cross-rail trawler, which has smaller clearance, smaller vibration and faster movement than the traditional pneumatic trawler.
HSD Glass Linear Bilateral Edge Grinding Machine
Processing glass thickness
3-25mm
Processing Dimension Range
HSD 2010    250mm- 1000mm
HSD 2015    250mm—1500mm
HSD 2020    250mm—2000mm
HSD 2025    300mm—2500mm
HSD 2035    300mm—3500mm
HSD 2042    350mm—4200mm
HSD 2050    400mm—5000mm
HSD 2060    400mm—6000mm
Transport speed of glass
0.5m—8m/min(standard)
0.5-15m/min(high speed)
Parallel error
≤0.2mm/m
≤0.2mm/m
Diagonal error
≤0.5mm/m
≤0.5mm/m
Chamfer width error
≤0.2mm/m
≤0.2mm/m
Chamfer width dimension
1-3mm
1-3mm
Maximum bottom grinding
5mm
5mm
Pneumatic working pressure
0.6Mpa-0.8Mpa
0.6Mpa-0.8Mpa
Working height
900±20mm
900±20mm
Total power
HSD 20: 51 KW   HSD 22: 56 KW  HSD 22: 65.2 KW