Sky Air-Ship Digital Printing Equipment Co.,ltd. is the pioneer of manufacturers of UV flatbed printers in China. With remarkable reputation and very high cost performance, Skyjet UV flatbed printers have been sold more than 600 units both in China and more than 40 countries in the world in the past 7 years, Skyjet has been the No.1 seller of UV flatbed printer in China.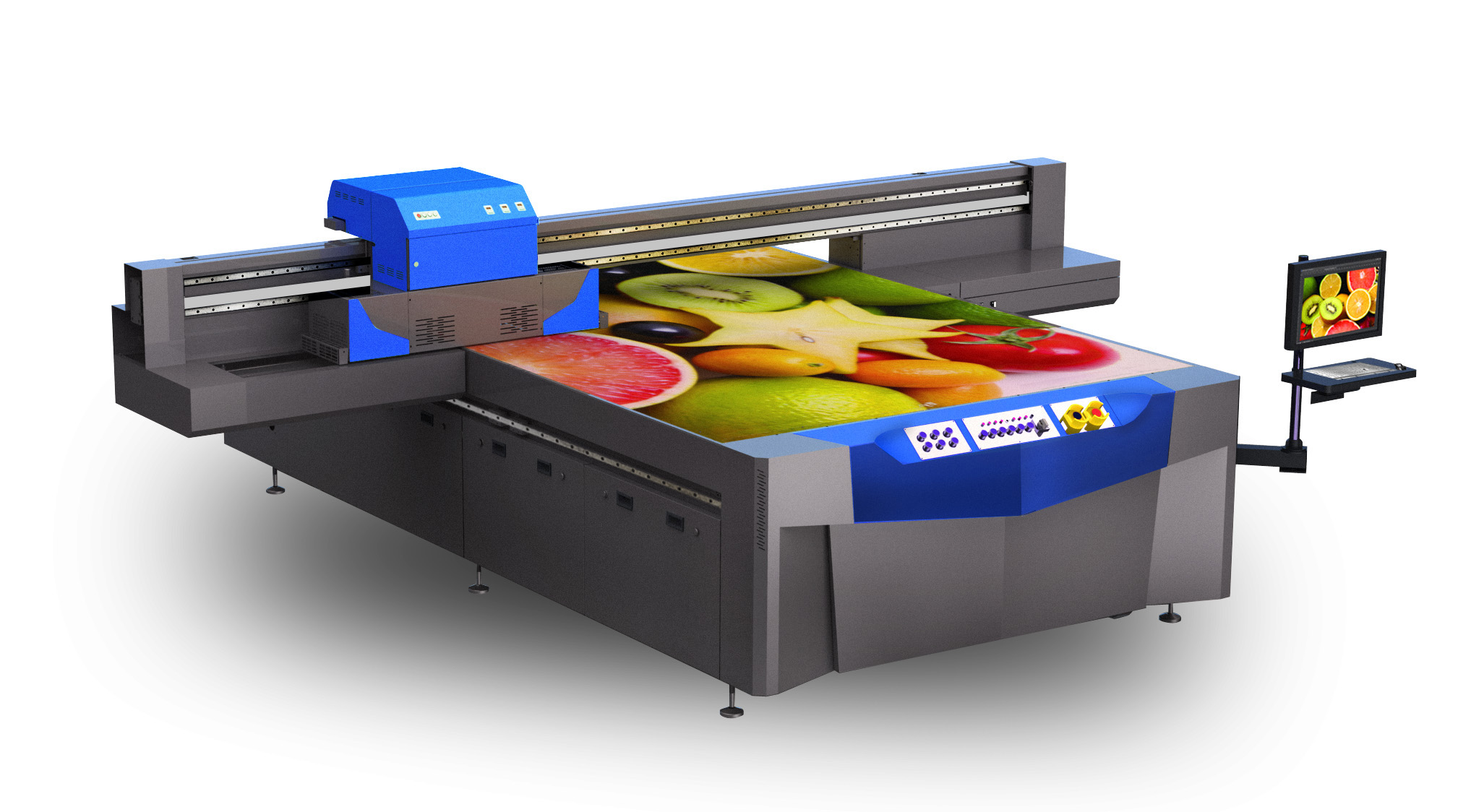 Technical features:
High speed printing: 16 pieces of KM1024MH print heads can realize 72 sq.m/h under 4 pass 9 colors technology: CMYK LC LM White Varnish Primer, unique primer printing function is the best feature for printing on glass and ceramic tile
Ultra wide-format printing: print area up to 3 * 2 meter, it can print on all types of materials
Stable printing: real Konica Minolta print head with heater and sensor inside, the temperature inside the print head is very stable, which realize best condition for ink ejecting and make sure the stability of printing.
Three layer printing: special technology of controlling print heads to realize "color-white-color" and "white-white-color" 3D printing.
Dual white printing: remarkable dual white printing technology
White printing: with best rip software caldera, many applications for white color such as overlay white, underlay white, fill white and spot white can be adopted on transparent materials to realize elegant appearance.
The carriage can start printing at either end on Y-direction, that is, it can print forwards and backwards, saving much time and raising productivity to a great extent
Automatic height detection: the maximum print thickness is 100mm, the height can be adjusted to appointed position automatically.
Automatic capping device: practical capping device ensures convenient maintenance
Special sectional vacuum suction: separate sectional vacuum suction effectively avoid print materials getting twisted.
Stop valve: Practical stop valves are installed in the carriage to prevent ink from dropping, electronic valves are also available
Locating pin: locating pins can be installed on the table of the printer for aligning, vertical printing and repeat printing are very convenient.
Anti-static function: anti-static device can be installed on the printer to eliminate static, misting can be avoided.
Anti-crash design: it can avoid any accident caused by carriage crash, effectively protect print heads.
UV light shield design: effectively protect operator
Constant temperature in the ink tank: making sure it can print in a cold room.
Pneumatically controlled waste ink container
Application fields: it is suitable for printing all kinds of materials, rigid materials such as glass, ceramic tile, ceiling, aluminum board, wood board, door, label, acrylic, KD board, Plexiglas, foam board, corrugated paper, and so on. Flexible materials such as wallpaper, tapetum lucidum, canvas, carpet, leather, paper, PVC and so on.
Technological advantages: Skyjet provide one-stop digital printing technological solutions for different fields such as electrical panel, art glass, decorative ceramic tile, furniture and so on.