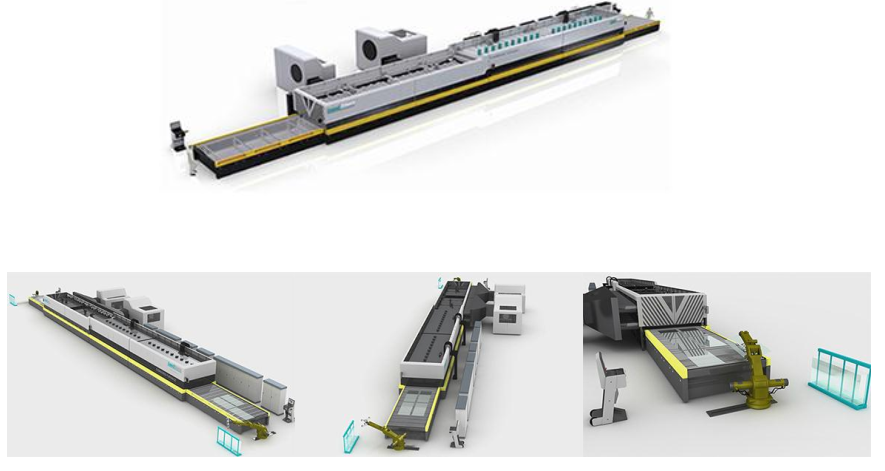 Application Fields:
Solar Energy Industry
Heating Mode:
Combination of radiation and convection heating
Glass Can Be Tempered:
Flat ultra-thin glass for Solar Energy Industry
Product Introduction
To realize thermal tempering without compressed air, producing high quality ultra-thin flat tempered glass by adopting energy efficient high pressure blowers.
Technical Features
Stable product quality, reliable operation and low production costs.
Ideal for the production of ultra-thin, flat tempered glass used in household appliances and solar power industries.
Optional smart control solutions are available for comprehensive, flexible, and powerful equipment management.
High quality and lean production of tempered glass can be achieved based on state-of-the-art technologies.
Technical Parameters
Typical Models

A1525

A1220L24

Max. Dimension

1500×2500

1200X2000

Min. Dimension

200X250

200X250

Glass thickness

2.5-6mm

(

Tempered

)

2.0mm

(

Strengthened

)

2.5-6mm

(

Tempered

)

2.0mm

(

Strengthened

)

Capacity

18-22 loads/hour

380 m2/hour

Installed capacity

1400

2800
Note: Data presented is derived from the production of the 2.5 mm tempered glass calculated on 65% loadage. Actual productivity may vary depending on the glass types and process requirements.
Customer Case
Company Name

Chongqing SYP Engineering Glass Co., Ltd.

Company Location

City of Chongqing

Introduction

Founded in November, 2013, Chongqing SYP Engineering Glass Co., Ltd. Is a subsidiary wholly owned by Shanghai Yaohua Pilkington Glass Group Co., Ltd. with RMB 275 million registered capital. The company primarily manufactures and sells inorganic nonmetallic materials and products, LOW-E energy saving special glass, environmental friendly special laminated insulating composite safety glass

, 

self-cleaning special energy efficient glass, LOW-E special glass substrates, and other deep processed glass products. The project is located in the Jianshe cluster of Wanshen Industrial Park (Jianshe Village, Town of Wandong), with a total area of approximately 66 acres, and plans to invest a total of RMB 1.5 Billion on the construction of facilities for off-line coated glass, tempered glass, insulating glass, vacuum insulated glass, and other energy saving building glasses.

Main products

Inorganic nonmetallic materials and products, LOW-E energy saving special glass, environmental friendly special laminated insulating composite safety glass

, 

self-cleaning special energy efficient glass, LOW-E special glass substrates, and other deep processed glass products