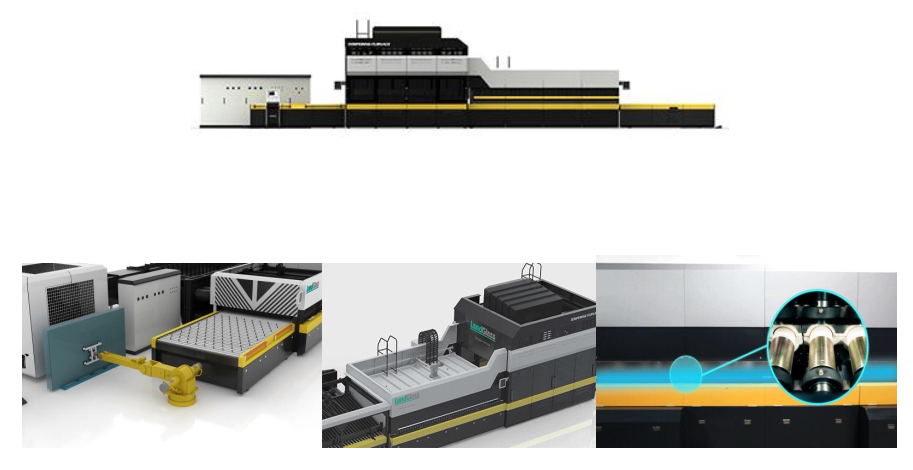 Application Fields:
Automotive Windshield
Heating Mode:
convection heating
Glass Can Be Tempered:
on-line and off-line Low-e (E=0.02) glass, ultra-clear glass, screen-printed glass, pattern glass, tinted glass, clear glass etc.
Product Introduction
Adopting the latest vacuum thermoforming technology, ideal for mass production of windshield.
Optional smart control solutions are available for comprehensive, flexible, and powerful equipment management.
High quality
and lean production of tempered glass can be achieved based on state-of-the-art technologies.
Technical Features
Servo driving – fully adopting servo driving system in bending section for high location accuracy;
Mold heating – compensating heat loss in thin glass bending;
Vacuum suction – creating close contact between mold and glass for precision shaping with vacuum suction;
Custom chiller – customized chiller in conformity with the shape of the glass to ensure the uniformity of tempering stress;
Air cushioned unloading – avoiding damage to glass, improving glass surface quality;
Dual-mold trolley – less processing time for higher output;
Lowered roller table – allowing steady running of bending roller.
Technical Parameters
E1610/3V

E1610L14V

Max. Dimension

ARC1600 * ARC1000

ARC1600 *ARC 1000

Min. Dimension

ARC400 * ARC500

ARC400 * ARC500

Glass Thickness

2.0-2.5 hot bending/2-3 semi-tempered/3.2-6 fully tempered

2.0-2.5 hot bending/2-3 semi-tempered/3.2-6 fully tempered

Max. Height of curvature

120

120

Capacity

68-72

140-150

Installed Capacity

1500kVA

2200kVA
Note: Actual productivity may vary depending on the glass types and process requirements. Customer Case
| | |
| --- | --- |
| Company Name | BSG Auto Glass Co., Ltd. |
| Company Location | Dafeng City, Jiangsu Province |
| Introduction | Specialized in automobile glass manufacturing, BSG Auto Glass Co., Ltd is one of the major industrial projects in Yancheng City. The company is equipped with several state-of-the-art production lines for upscale automobile glass, primarily developing, making, and selling high performance, sound and thermal insulating glasses for luxury vehicles. |
| Equipment Type | LD-E1610 |
| Main products | Various types of laminated windshield glasses, side window glasses for luxury cars, buses, trucks, and recreational vehicles. |