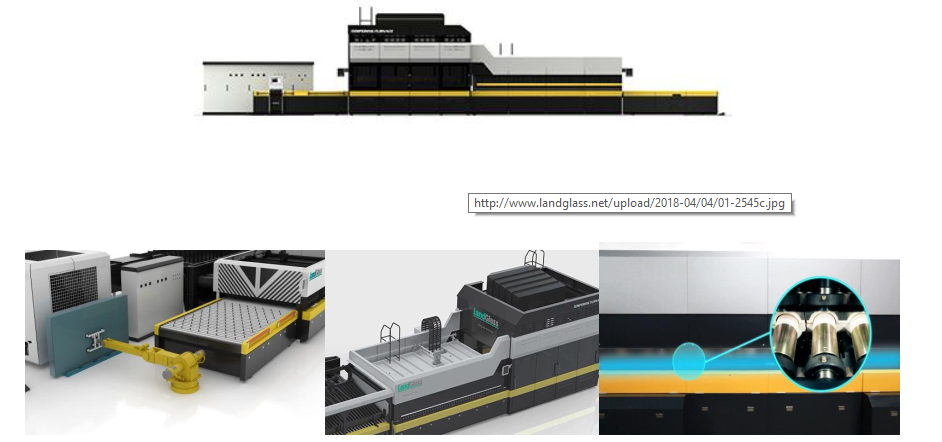 Application Fields:
Bus Backlite Glass
Heating Mode:
convection heating
Glass Can Be Tempered:
on-line and off-line Low-e (E=0.02) glass, ultra-clear glass, screen-printed glass, pattern glass, tinted glass, clear glass etc.
Product Introduction
Bending with mold, tempering with versatile chiller; it has good production flexibility and low operation cost.
Suitable to manufacture after-market bus backlite.
Optional smart control solutions are available for comprehensive, flexible, and powerful equipment management.
High quality
and lean production of tempered glass can be achieved based on state-of-the-art technologies.
Technical Features
Bending with mold – guaranteed curvature accuracy;
Rapid mold mounting – easy to change for production flexibility;
Versatile chiller – for tempering glass of different shapes to minimize production cost;
Motorized curvature adjuster – for easy chiller adjustment;
Lowered roller table – allowing steady running of bending roller.
Adopting tubular air nozzles – with these nozzles, distance between chiller and glass sheets has less effect on tempering and
uniformity of stress in glass is improved .
Technical Parameters
E2312/2V

Max. Dimension

ARC2300*ARC1200

Min. Dimension

ARC400 * ARC500

Glass Thickness

4-6

Max. Height of Curvature

150

Capacity

30-34

Installed Capacity

900kVA
Note: Data presented is derived from the production of the thinnest glass. Actual productivity may vary depending on the glass
types and process requirements.
Customer Case
| | |
| --- | --- |
| Company Name | BSG Auto Glass Co., Ltd. |
| Company Location | Dafeng City, Jiangsu Province |
| Introduction | Specialized in automobile glass manufacturing, BSG Auto Glass Co., Ltd is one of the major industrial projects in Yancheng City. The company is equipped with several state-of-the-art production lines for upscale automobile glass, primarily developing, making, and selling high performance, sound and thermal insulating glasses for luxury vehicles. |
| Equipment Type | LD-E1610 |
| Main products | Various types of laminated windshield glasses, side window glasses for luxury cars, buses, trucks, and recreational vehicles |