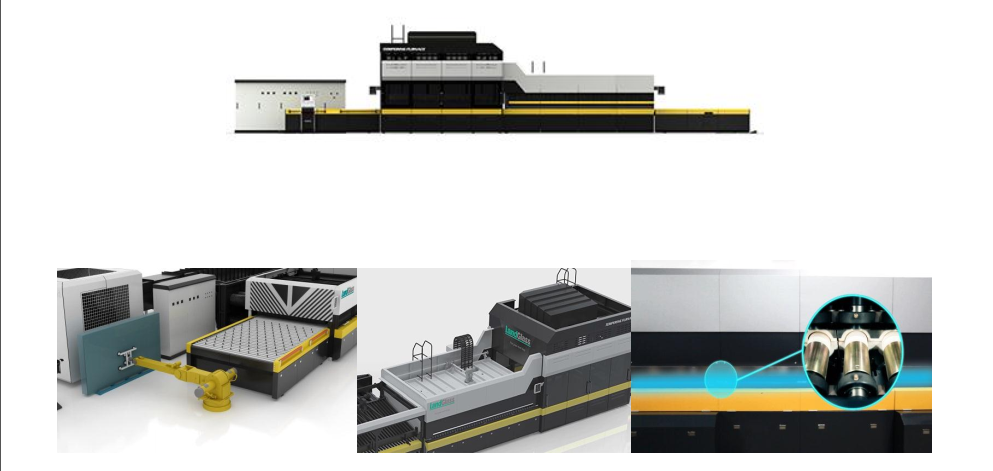 Application Fields:
Bus Sidelite Glass
Heating Mode:
convection heating
Glass Can Be Tempered: on-line and off-line Low-e (E=0.02) glass, ultra-clear glass, screen-printed glass, pattern glass, tinted glass, clear glass etc.
Product Introduction
Bending section with hard shafts and quenching section in vertical direction against bending section, so "T" shape layout comes
into being, ideal for deep curved bus sidelite processing. Optional smart control solutions are available for comprehensive, flexible, and powerful equipment management.
High quality
and lean production of tempered glass can be achieved based on state-of-the-art technologies. Technical Features
"T" shaped layout – "T" shaped layout to connect bending and tempering sections, 2-stage processing;
Bending with hard shafts – high precision bending and ensuring the straightness of side edge;
Vertical quenching section – wide oscillation range, less air mark, excellent glass quality;
Precise shaping – precisely positioned bending rollers for high shaping accuracy;
Separate chiller design – easy service accessibility and curvature adjustment;
Adopting tubular air nozzles – with these nozzles, distance between chiller and glass sheets has less effect on tempering and
uniformity of stress in glass is improved .
Technical Parameters
D2115/3V

Max. Dimension

2100*ARC1500

Min. Dimension

300*ARC400

Glass Thickness

5-6

Min. Radius

300

Max. Height of Curvature

300

Capacity

35-38

Installed Capacity

1000kVA
Note: Data presented is derived from the production of the thinnest glass. Actual productivity may vary depending on the glass
types and process requirements.
Customer Case
| | |
| --- | --- |
| Company Name | Changzhou Nanxin Glass Co., Ltd. |
| Company Location | City of Changzhou, Jiangsu Province |
| Introduction | Changzhou Nanxin Glass Co., Ltd is a mid-size manufacturing enterprise with a floor space approximately 12,000 square meters and currently employs more than 150 workers. The company has a number of advanced high quality production lines with ancillary equipment. Their products have wide range of applications in construction, decoration, furniture, sanitary fittings. They supply various types of flat and bent glass, laminated and insulating glass, as well as special glass and art glass. The company has built a good reputation through its advanced equipment, technical strength, superior quality, and strong service support, and is a well-established glass deep processing enterprise in Yangtze River Delta region. |
| Equipment type | LD-D1209-2 Variable Curvature Tempering Furnace |
| Main products | Tempered glass products, glass for heavy machinery, freezers and refrigerators, glass accessories for trains, and glass shower enclosures |