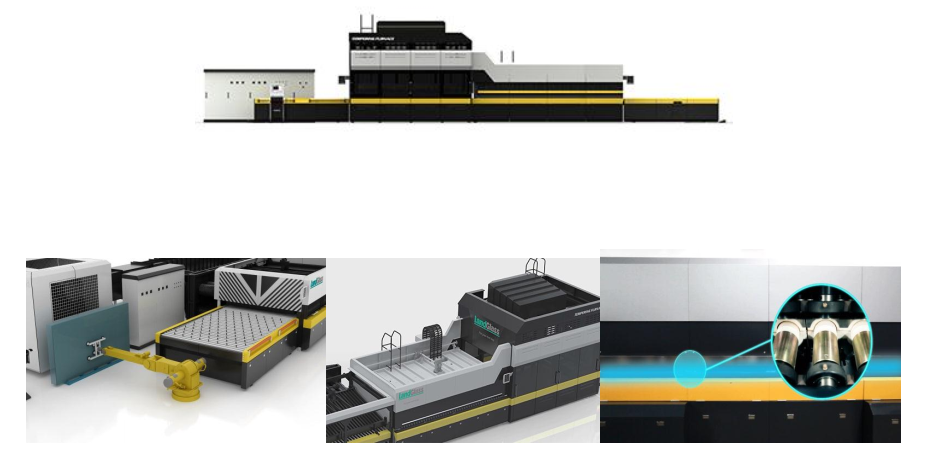 Application Fields:
Automotive Sidelite, Fixed vent
Heating Mode:
convection heating
Glass Can Be Tempered:
on-line and off-line Low-e (E=0.02) glass, ultra-clear glass, screen-printed glass, pattern glass, tinted glass, clear glass etc.
Product Introduction
Adopting continuous pass-through tempering process, ideal for mass production and processing of automotive sidelite, fixed vent;
Optional smart control solutions are available for comprehensive, flexible, and powerful equipment management.
High quality
and lean production of tempered glass can be achieved based on state-of-the-art technologies.
Technical Features
Pass-through tempering process – high quality and high output;
Asymmetric chiller design – precise shaping and smoother curvature;
Easy roller installation – for more convenient rapid replacement;
Computer-aided curvature adjuster – easy operation and accurate curvature;
Pressure display and alarm – quenching pressure monitoring to ensure tempering quality;
Scalable transition device – offering great convenience in furnace operation
Open type chiller – easy access for service work;
Technical Parameters
B1208/4V

B1508/4V

B1208L24V

B1508L14V

Max. Dimension

1200 * ARC800

1500 * ARC800

1200 * ARC800

1500 * ARC800

Min. Dimension

100*ARC300

100*ARC300

100*ARC300

100*ARC300

Glass Thickness

3.2-5.0

3.2-5.0

3.2-5.0

3.2-5.0

Min. Radius

1150

1150

1150

1150

Capacity

75-80

75-80

450-460

270-280

Installed Capacity

900kVA

1100kVA

2200kVA

1200kVA
Note: Data presented is derived from the production of the thinnest glass. Actual productivity may vary depending on the glass
types and process requirements. Optional temperature surveillance device ensures product yield by monitoring glass exit
temperature and giving warning when exceptional temperature is detected. Customer Case
| | |
| --- | --- |
| Company Name | Jingmen Xinsheng Industry Co., Ltd., Hubei Province |
| Company Location | City of Jingmen, Hubei Province |
| Introduction | Hubei Jingmen Xinsheng Industry Co., Ltd is a modernized enterprise integrating manufacturing, sales, and service in glass deep processing industry. The main products of the company include flat and bent building glass, automobile glass and other deep processing products. Adhering to the "Win customers with reputation; survive the competition with quality; profit through effective management" philosophy, the company is committed to providing quality products to its customers. |
| Equipment Type | LD-B1008L |
| Main products | Tempered glass for excavators, automobiles, buses, buildings, windows and doors, household appliances, furniture, windshields, and safety glasses. |