PLC control and touch screen displays glass thickness, working speed ,edge removal and finished meters.pneumatic control on flat polishing and arris polishing spindles.Suitable for straight-line edging with arris on various flat glass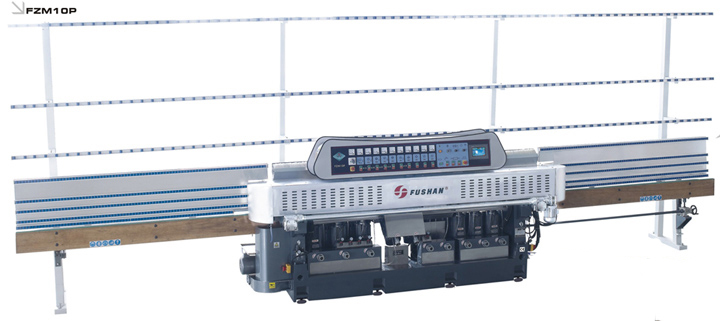 Joint-Link adopts chainless ball bearing structure,Cast alumininm pad tracks are made of linking elements fitted on special bearings, track motion is performed by gears without chains,very loog life and high and high precision..
Machine' s base and beam ara made of cast iron . the front arrises spindles is part of the front beam thus keeping unvaried when glass thickness was changad (FZM10P, FJM10/45,FJM14/45).
Scrubbers to keep the tracks clean to avoid incrustations and facilitage glass cleaning at the end of processing (as an option)
With PVC drainage pipe,which has a long life,smooth drainage,easy maintenance and betterlooking(as an option)
Protection covers are built with switches inorder always to guarantee the operators safety.For CE standard(as an option)
Entrance conveyor is equipped with a vertical adjustment and LED display for glass removal system,for this reason it is not necessary to adjust the position of wheels,acting instead on the handwheel placed beneath the conveyor.